My May 10, 2010 election experience is disappointing and agonizing. I'm a voter here in Davao City and my precinct was in Catalunan Grande Jesus Soriano National High School. The weather was not good, it was drizzling and I would say it was a good thing. It is the first time for me to be thankful that it was a gloomy day. We brought umbrellas with us to fight off the rain and the sun, hopefully. It was a good thing that the day remained gloomy because of the agonizing long lines that we endured. Imagine if it was sunny. I'm sure someone would have fainted for standing there for more than 3 hours.
It was disappointing because we expected everything to be, at least, twice as fast when it comes to the whole process. It was, overly, slow with the machines failing from time to time. Annoying, I must say.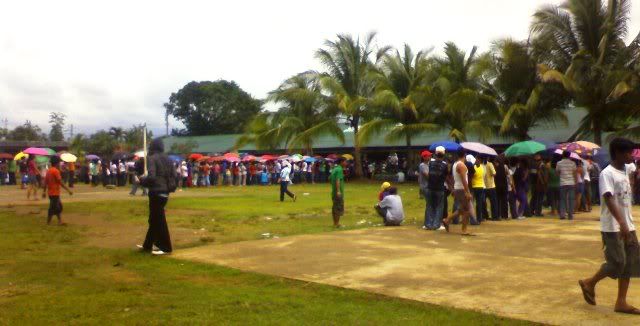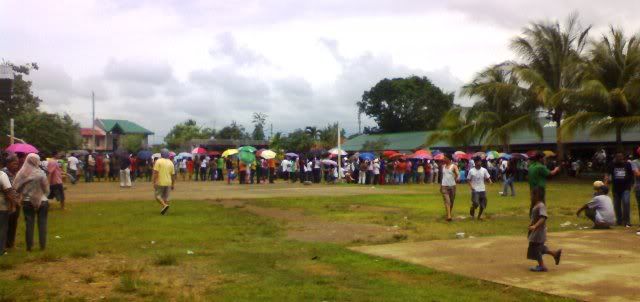 We arrive at our precinct at around 9:00AM. Streets were clog and when we entered the school, hundreds of people are queuing in a looooong line. Senior citizen where prioritize and need not line.
We looked for our room and went to our line. My wife's line was very long, longest of all lines. To my surprise my line was somewhat surprisingly short. Later I found out that it was short because those who were in charge in that room listed the names of the people who were in the line and grouped us by 10s and started us calling by batch. I was batch 36th.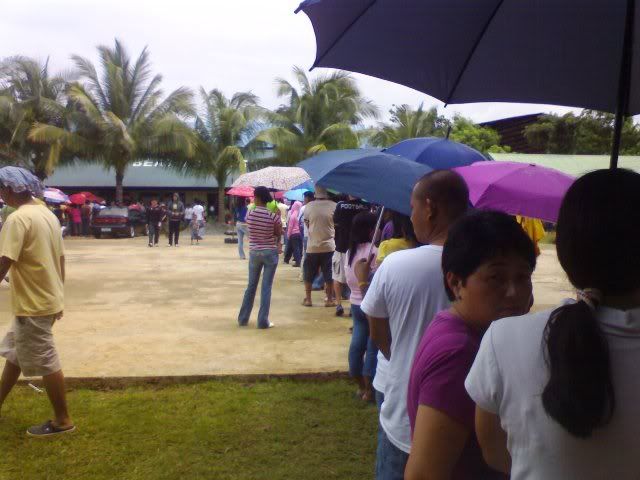 And the LOooNG and AGONIZING wait started...
My wife's line was fast compared to my line. We became hungry and tired as we waited and watched the line moved slooowly. My wife started to fall in line at around 9:15AM and she finished voting at around 2:00PM. I started to fall in line at around 9:30AM and finished at around 2:30PM
Additional Observations:
1. The PCOS machines keeps on failing from time to time due to hang-ups, lags, Ballot jams and rejected Ballots.
2. I could still remember that there was an issue regarding the Ballot secrecy folder. It was also a controversial issue. But I saw that our precinct did not use a COMELEC Ballot Secrecy folder. Instead, they only used ordinary white long folder. Also the UV Lamp was not spotted in the precinct. Hmmm....
3. Senior Citizens could not clearly read the names in the Ballot and are having difficulty in shading.
It was not that easy for senior citizens like they advertise on TV.
4. If you shaded the wrong candidate then that candidate should thank you for the inadvertent vote.
5. (This is only applicable in Davao City). This is funny. I wonder who hired these people who has the name RODY and RODRIGO to run as mayor for Davao City. Clearly, it has the intention to confuse the people who are voting. I NEVER saw or heard about these candidates before.
6. The May 10, 2010 election was chaotic in other places in Mindanao. And it was even EXTENDED on other Regions or City.
7. There are only few people who voted this election. Many did not vote because of the long line and agonizing, stressful wait.
8. The officers inside the room where I was assigned did not properly check the identity of the voter. Impersonators and flying voters could EASILY steal your votes.
9. There was no system used to facilitate the voters."Kanya kanyang diskarte at kalat!"
10. I just saw on TV that there are MINORS who are voting!
Question:
Why is it that the COMELEC did not bought a system which are proven to be working and used by other countries in their elections? Why is it that they have to waste time and people's money on machines which are not even functioning properly?
How about you? Care to share your experience? Just leave a comment.