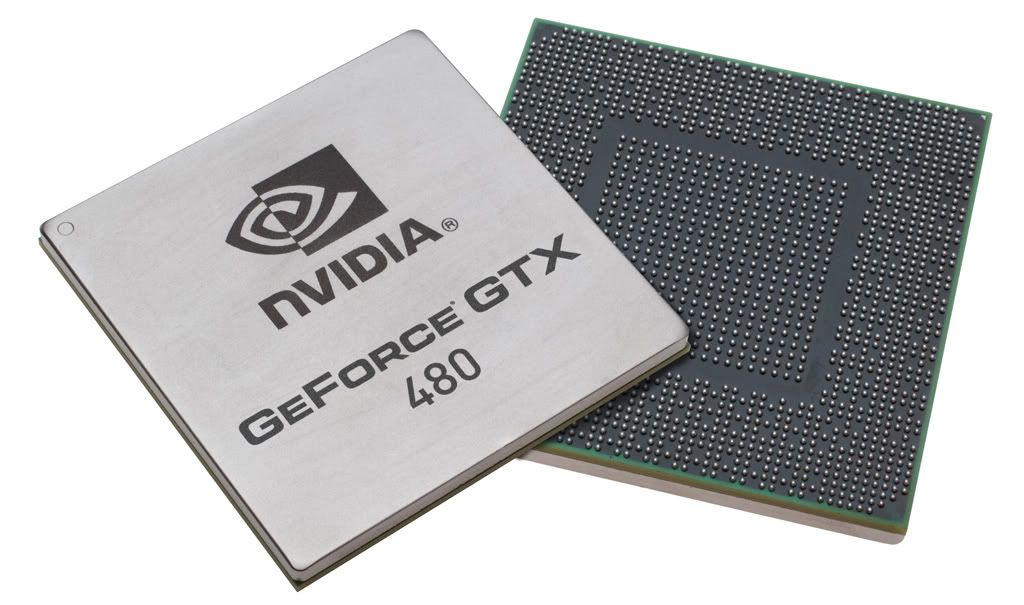 Now we have a full picture of the GTX 480 and 470. These new video card from Nvidia looks really promising considering the new features and specifications that competes with ATI Radeon 5800 series cards.
Specifications of the GTX 470 and 480

Lets look at the facts of the GTX 480
Gamers want the fastest GPU on the market and GeForce GTX 480 sets the new standard. Its next-generation architecture delivers unprecedented gaming performance at maximum resolution and quality settings, even on the latest DirectX 11 titles.
On average, 27 percent faster performance than any GPU on the market in newer DX11 applications. At 19x12 4xAA/16xAF resolution, the GTX 480 is 61 percent faster in Metro 2033, 89 percent faster in Unigine Heaven v2, and 29 percent faster in Battleforge than the closest competitive product.
The new NVIDIA PolyMorph Engine, a scalable geometry processing engine built from the ground up for DirectX 11 tessellation, enables incredibly detailed game characters and terrain with blazing performance. In addition, high-speed 32x anti-aliasing smoothes edges for top-notch visual quality.
The GTX 480 is also the world's first consumer GPU to enable interactive ray tracing for ultra photo-realistic scenes.
New NVIDIA 3D Vision Surround technology expands the gaming real estate across three monitors in full stereoscopic 3D – making for a truly immersive gaming experience.
Combined with NVIDIA 3D Vision wireless active shutter glasses, 3D Vision Surround technology lets you feel like you're in the game.
Capable of rendering more than 746M pixels/second at full HD 1080p for a mind-blowing, 5760x1080 gaming experience.
Advanced NVIDIA software automatically converts more than 400 games to stereoscopic 3D without the need for special game patches.
Get a complete view of the battlefield in real-time strategy games.
Manage inventory windows and quest logs, and track your party in your favorite MMORPGs.
See your enemy's movement quicker and react first in first-person-shooters.
Buckle yourself into the driver's seat of your favorite racing game and be immersed in the action.
Watch Blu-ray 3D movies, view 3D photographs, or stream 3D content over the Web.
NVIDIA PhysX technology brings games to life with dynamic, interactive environments.
Two times the PhysX technology performance over prior generation GPUs for dynamic game effects, such as turbulence, fluids and smoke.
New NVIDIA GigaThread scheduler allows up to 10-times faster switching between graphics and physics processing, enabling more complex effects to be rendered in real time.
Next-generation CUDA architecture unleashes the computational power of the GPU to tackle the most intensive multimedia applications
World's most open computing platform, with complete language and API support, including CUDA C/C++, DirectCompute, OpenCL, Java, Python, and Fortran for the broadest compatibility with GPU-accelerated applications.
Full support for GPU computing under Microsoft Windows 7.



AnandTech: "Fermi's compute-heavy and tessellation-heavy design continues to interest us but home users won't find an advantage to that design today."






HardOCP: "The only thing that "blew us away" was the heat coming out of the video card and the sound of the fan."






PC Perspective: "If you want the fastest single-GPU graphics card then the GTX 480 is the best there is."






HotHardware: "Versus the single-GPU powered Radeon HD 5870, the GeForce GTX 480 is on average roughly 5% - 10% faster."






Hexus: "A lot of juice means a lot of heat and load on the coolers. This is why the GeForce GTX 480's excellent heatsink has to work overtime in keeping the GPU under 100°C."






Legit Reviews: "The NVIDIA GeForce GTX 480 was known to be hot and fast before it came out and that is exactly what it turned out as being."
EVGA GeForce GTX470 1280 MB DDR5 PCI-Express 2.0 Graphics Card 012-P3-1470-AR
Here are more pictures of the new GTX 480 and 470
EVGA GeForce GTX480 1536 MB DDR5 PCI-Express 2.0 Graphics Card 015-P3-1480-AR
You might also want to read full reviews from: